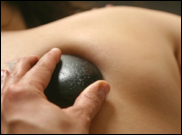 TheraStone Massage
A TheraStone Massage treatment is a lot like a traditional swedish massage treatment but with a few difference. Instead of using their hands, the therapists use heated or cooled stones to perform massage therapy techniques. The stones basically become a warm extension of the therapists hands. In a TheraStone treatment patients recieve the benefits of both massage and hydrotherapy.
Therapy Specific TheraStone Massage
When warmed, the heat given by the stones warms the muscles & quickly relaxes the client, allowing therapists to do deeper, more specific work. Using only part of the stone set, treatment focuses on a specific area of the body (eg: Back & Neck) perfect for those chronic problem areas.

Relaxation TheraStone Massage
This form of massage is ultimate in stress relief. Smoothly polished basalt stones are first heated & then gradually incorporated into soothing massage techniques, becoming a warm extension of your therapists palms. Submerge yourself into a state of reverie as the last jags of tension & stubborn knots melt away.
60 minutes, (back, hips, legs, arms)
90 minutes, (full body)
Click here to get answers to commonly asked questions about TheraStone Massage.