Welcome to SaskMassageWorks
September 2021 Now accepting returning patients on a limited basis! Thank you for being patient with my closure during the height of the pandemic. It has been a long, difficult pandemic but hopefully the end is finally in sight. I am excited to finally welcome back patients! For now online booking remains unavailable so please contact me by email (rina@saskmassagework.com) or text (306-380-3732) to book your appointment. Currently I am only able to direct bill the co-operators, Empire Life, Equitable Life, Green Shield Canada, MEDIC Construction, NexgenRx, Saskatchewan Blue Cross & SSQ Insurance. I am still waiting for the reactivation of my direct billing capabilities by other companies.

COVID-19 Protocols We continue to prioritize the health and safety of our household. As my clinic is located within said household I am asking all patients to comply with the following:
-If you arrive early please wait in your vehicle until within 5 minutes of your treatment start time
-Upon arrival your temperature will be taken at the front door and you will have to sanitize your hands
-In all areas of our home outside of the treatment room patients must wear a mask over their mouth and nose. If you do not have a mask I will provide you with one.
-Within the treatment room wearing a mask is optional
-Contactless payments are preferred
-At this time please don't bring anyone with you for your appointment

If you are experiencing any symptoms of COVID19 (difficulty breathing, fever, cough, sore throat, etc.), have tested positive for COVID19 within the last 30 days, have had close contact with anyone with respiratory illness or a confirmed or probable/suspected case of COVID-19 please reschedule your appointment for a later date. If you have any questions please contact me.

Thank you for helping to keep other patients and my household safe by complying with the protocols above. I appreciate your continued support and look forward to seeing you soon!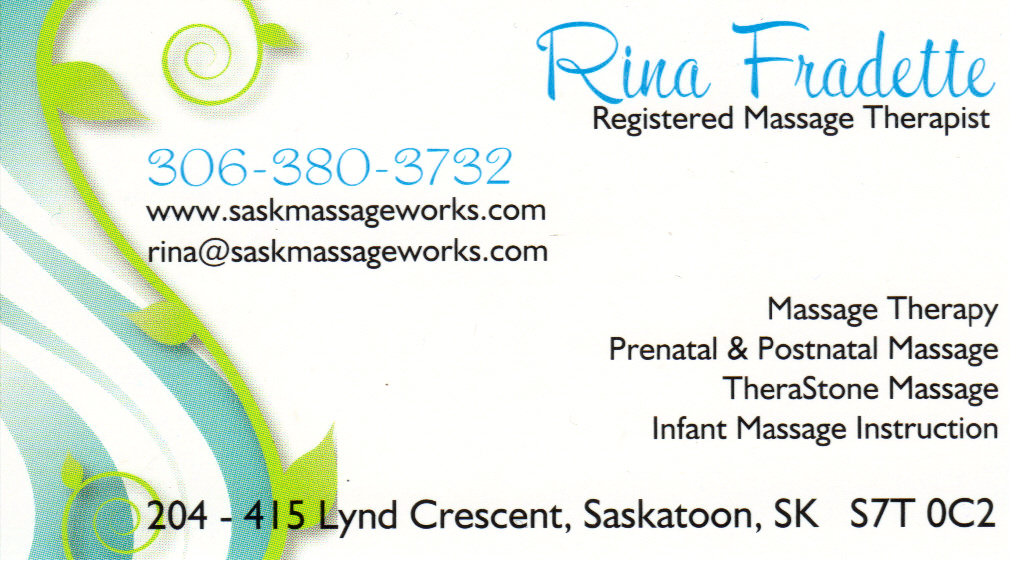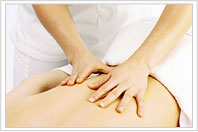 About My Practice
I am located at #204 - 415 Lynd Crescent, Saskatoon, Saskatchewan, Canada.
I provide therapeutic and relaxation massage in a safe, comfortable, and relaxing environment. I cater to clients of all ages including children, adults and seniors. Services include a variety of massage techniques that are designed to relieve the pain and stress related to day to day life, while aiding in the rehabilitation of physical injuries. I am able to direct bill the majority of health insurance providers.
About Me
I offer the highest quality of care to my clients. I am friendly and knowledgeable and care about all aspects of your treatment. I customize each treatment to meet your specific needs by incorporating a variety of assessment and treatment techniques that are best suited to you as an individual.
As part of my service, I will provide you with knowledge of self-administered pain management techniques such as stretching and strengthening exercises and the use of heat or cold therapy, which will help you get the most out of each treatment.
My practice is dedicated to improving the general well being of all my clients.
---

Massage Benefits

Request an Appointment

Massage Therapy can help:
Reduce stress
Alleviate pain
Relax your muscles
Improve circulation
Improve mobility

Use our convenient online Appointment Book to schedule an appointment with Rina Fradette today!